I am Resolution #2 and I thought that I would use February ...the month of love for my theme and then use a Color Challenge on top of that ...I wanted to use the romantic colors from this bedroom for my color challenge ...
Your challenge is to use at least 3 of the colors in this color palette for your page and then use one of the wonderful sketches from Let's Scrap ...here is a link to their sketches
2010 Sketches
You have until February 14th midnight to post your page here on this thread and in the Let's Scrap gallery to win this fun Valentine's prize package:
Here is the page that I completed for this challenge: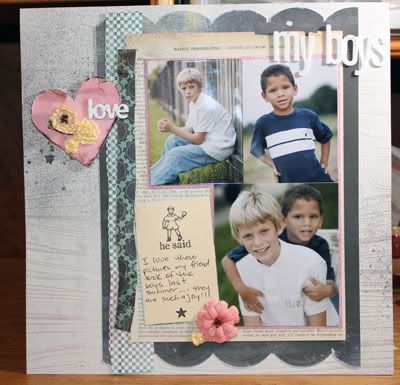 Here is the next blog you need to hop tooo .....
1.You must become a follower of each of the blogs hosting the blog hop.
2.Leave each blog host a little love (comment) so they know you stopped by.
3.When completing the challenges, you must use a Let's Scrap sketch unless it is otherwise stated in the challenge. You can find the sketches under the Sketches 2009 and Sketches 2010 tabs.
4.You must tag each entry with the correct Resolution # followed by the Let's Scrap sketch number you used to create it. It's important that you tag them correctly as we won't have time to be checking every tag and I don't want anyone to miss out on a draw. To tag an entry correctly, there must be no space between Resolution and the #. As an example, if I used sketch number LS120 for Resolution #1, my tag would read: Resolution#1, LS120.
5.You cannot combine any of the challenges with any other challenge, with the weekly sketches running from Jan. 12th-Feb.14th or with the Julie Bonner sketch. We are running the Blog Hop for a month so you will have plenty of time to complete all 15 blog hop challenges and Kathy's special challenges. We are cancelling the regular weekly Design Team challenges for the duration so you won't have to worry about trying to do them too.
6.I know many of you prefer to do two page layouts. If you do, you ­can use one side of a sketch for one challenge and the other side of the sketch for another challenge as long as the side you are using has the required ­­­­­­­­­­elements on it for the challenge you are submitting it for. Make sure to post each side separately and tag them for the challenge they are specifically for.
7.You will get ONE entry for each challenge prize for each single page entered. So if you choose to enter both sides of a two-page sketch for one challenge, you would get two entries for the prize. If you enter 3 single pages for the same challenge, you would get 3 entries for the prize draw etc.
8.If you complete all 15 challenges make sure to leave a comment for me in the Cosmo Cricket Grand Prize discussion in the forum so I make sure your name gets into the draw for the grand prize.
9.All members including the Design Team, Contributing Design Team, Administrators J etc. submitting an entry for a challenge are eligible to win a prize for the blog hop challenges but the DT/CDT's and Administrators are not eligible for the grand prize from Cosmo Cricket.
10.All challenges must be posted in the photo gallery by 11:59 pm (central time) on Monday Feb. 14, 2011. As the members are in many different time zones we will be going by the clock on the main page for the time.